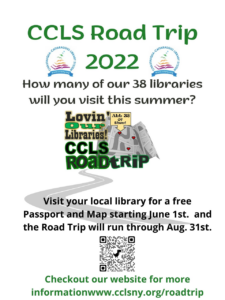 This summer take the CCLS Road Trip and check out our libraries in Chautauqua and Cattaraugus Counties. Explore, have fun, learn AND earn some prizes!
Your CCLS Road Trip begins any time from June 1 through August 31st
 Summer is the perfect time to become an explorer in your own backyard and what better place to explore than libraries! Our libraries have so much of offer from local collection, to knowledge of their communities, programs for both kids and adults to summer reading programs and of course books, movies and WIFI.
Did you know Alexander Findley Community Library has a boat on display in the children's section?
How about that the Allegany Public Library is in an old bank?
Your Road Trip starts when you…
Pick up your free official Road Trip Passport and Map at your local library, or any CCLS library, anytime after June 1. Get your 1st passport library stamp and then start planning which library you want to visit next.
Remember to get your passport stamped at each library you visit and you'll be on your way to earning prizes.  When you reach a prize level stop, let the library staff know.