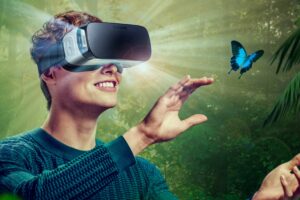 The DYP Library will be hosting Virtual Reality Game Nights on Tuesdays & Wednesdays, November 5th and 6th and 12th and 13th from 4:00-8:00 pm in the Anderson Community Room.  We will have a PS4 gaming system set up to our large TV monitor and we will have 20 virtual reality games to choose from.  All are welcome (from to teens to adults) to come and experience the reality of soaring like an eagle, blasting off to space in Apollo 11 or playing your favorite game in virtual reality.  Bring a friend or make a friend here at the library.  Please know participants must be at least 12 years old or older. Sign-ups preferred but walk-ins are welcome.  Please call the library at 716-492-1961 or stop at the front desk for more info. or to register for the program.  Registered players will be able to select their time slots ahead of time but will lose their spot if they are not present at the appointed time.
Pizza will be available for .50 a slice and pop for .25.
Let the gaming begin-virtually!
Virtual Reality Game Nights @ DYPL